Somehow, I've started speaking less.
It surely sounds like a relief to the people around me but this thing is kind of taking a toll on me. It is affecting me big time.
Sometimes I wonder am I moving towards depression? What is it that is going wrong in my life? Or what is it that is bothering me so much?
Everything, almost everything around me is in good shape and yet I don't feel that joy. Even if there is a sense of happiness, it is temporary.
I don't feel like going out, I don't feel like meeting my friends and even if I do, I barely speak with them and I mostly prefer to stay mum. And yes, I do cry for no reason. Tiniest of things affect me, my sensitivity is at its epitome! All of it is so UNLIKE me! Countless thoughts revolve around the orbit of my brain and it's difficult to find an escape. These thoughts are usually negative.
I'm turning into a woman I don't like. My zeal to do things seems to flicker, the emphatic nature that I have seems to fade away, finding joys in others joys seems like a task, I get unhappy with what I have and wish for things (not necessarily materialistic) that others have!
All this is because I'm speaking less. And I don't really know why! I always have expressed my heart out, talking to people has been my forte, and meeting them and feeling good has always been on my plus side! And now, suddenly, it seems incomplete.
I know it in my heart when I'm back to my usual self, all of this crap will go away!
Not that I have a lot of free time, a lot is going on but that volition to be good, do things, entertain people, be the heart and soul of my friends is languishing.
Yesterday, I met a dear friend after a really long time. And she was busy on her phone mostly and I was bored and thus ended up being on my phone! Again so unlike me!
I was home after being at my mum's place for a couple of days and coming home meant happiness, it meant seeing my husband after a while. It was bliss. I loved having him around and things were going pretty smooth between us. And yet, I got pissed on such a petty thing. And spoilt my mood. And mind you, he was nowhere at fault. It was all in my head, all the futile, baseless thoughts that I keep having, that botch up everything around me, every time!
Is it depression? Are these the symptoms? Or is it the late-twenty crisis? Or are my planetary situations a bit deviated from their paths (if only there is a sound reason behind it)? I don't know it yet and I don't feel like finding out either!
The situation is not that worse, but it's not good on the other hand! Something is bothering me, I just don't know it yet!
Does this ring a bell with you? Have you felt something like this? What did you do? How did you escape? You gotta tell me! It really is affecting me!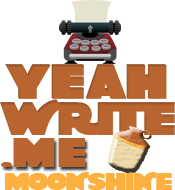 Love,
Geets